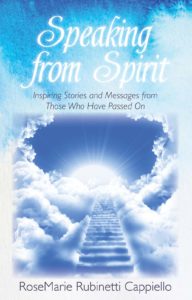 Inspiring stories and messages from those who have passed on

By RoseMarie Rubinetti Cappiello

Published by Bryce Cullen Publishing
"A truly capitvating and inspiring read. It's more than a book, it becomes an experience for the reader as they are transported through each life as it's told by Rosemarie; who not only uses her ability as a medium but her loving nature to capture the essence of each soul's journey." ~ Rita Gigante, Author of "The Godfather's Daughter: An Unlikely Story of Love, Healing and Redemption"
"
your book is wonderful – every story is my favorite until I read the next !
"
~ Lois Kramer-Perez, C.Ht.
Host a
"Living room"
book signing… includes-one hour of mediumship demonstration for all those who purchase a book plus time for questions and answers. Hostess receives a
FREE
book and a
FREE
30 minute phone reading!!
If you have a business or store and would like to offer my book to sell, please contact me on how we can work this out.
I am so excited for you to read what these lovely spirits have shared with me.

Tell all your friends and family, your doctor, chiropractor, hairdresser and mailman about it. Facebook and tweet it! Blog it if you blog. Post a link to your website. Visit my facebook page speakingfromspirit and please write a comment. And…. more importantly, write a review on Amazon.com and BarnesandNoble.com. I would greatly appreciate the support.
Thank you all for your love and support.

Date/Time
Event
03/13/2018
7:00 pm - 8:30 pm
Book Signing & Mediumship Demo FREE
Fairfield Public Library, Fairfield NJ
03/21/2018
6:30 pm - 8:00 pm
Book Signing and Medium Event FREE
Sussex County Library, 125 Morris Turnpike, Newton, NJ 07860
04/10/2018
7:00 pm - 8:30 pm
Book Signing & Mediumship Demo FREE
Hillsdale Public Library, Hillsdale NJ
04/25/2018
7:00 pm - 8:30 pm
Book Signing & Mediumship Demo FREE
Livingston Public Library, Livingston NJ
05/15/2018
6:00 pm - 7:30 pm
Book Signing & Mediumship Demo FREE
Jacumba Public Library, 44605 Old Hwy 80, Jacumba Hot Springs, CA 91934
05/17/2018
6:00 pm - 7:30 pm
Book Signing & Mediumship Demo FREE
Del Mar Branch Library, 1309 Camino Del Mar, Del Mar, CA 92014
05/19/2018
2:00 pm - 3:30 pm
Book Signing & Mediumship Demo FREE
4S Ranch Branch Library, 10433 Reserve Dr, San Diego, CA 92127
05/21/2018
3:00 pm - 4:30 pm
Book Signing & Mediumship Demo FREE
Lakeside Library, 9839 Vine St, Lakeside, CA 92040
07/05/2018
2:00 pm - 3:30 pm
Book Signing & Mediumship Demo FREE
Main Branch Public Library, 30 Mechanic Street, Cape May Court House NJ
07/06/2018
2:00 pm - 3:30 pm
Book Signing & Mediumship Demo FREE
Lower Cape May Library, 2600 Bayshore Rd Villas NJ